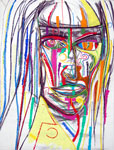 This site being my repository of bells, whistles and outlandish inventions, I have added a portrait of a female alien. I have also added an update to my Messiah painting.
End of 1990s I got involved in a UFO bulletin board, due to friendships with some of its participants. The arrogance of the "skeptics" got on my nerves to the point that I started to defend the "extraterrestrial hypothesis". The other side (whatever that is), dubbed the "believers", tend to be avid conspiracy theorists and some of them have impressive knowledge of the US government, for civilian outsiders, that is. Some of that, beside the friendships, is what I got out of it, but I still I take kindly to the alien as a cult icon.
At this moment an anti-Islamic Dutch politician is on his visit to the US Congress and in my country of residence being called a "multiculturalist" (usually abbreviated semi-funnily as "multicultie") is not intended as a compliment, so maybe the time is right for me to defy……and come out of the closet…….
While the politically correct have stubbornly denied my right to think straight for decades, let me offer them this appeaser: I'm a xenophile.
Now get the ***k out of my way…I have work to do.