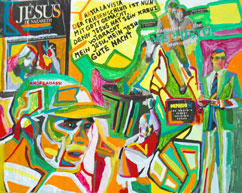 I can't crank out a new painting every 15 days, so when I don't have a new one available, I put an old painting online, beginning with the ones I'm confident about. So now I have to resort to my less fortunate creations, although, if I really think a painting looks like ****, I dispose of it.
The Nineties just makes the cut. The painting, that is. The decade was perceived by me (for what it's worth) as fake, conceited and marked by unholy alliances and other silliness. People were referring to the divinification (I don't know if that's real English) of man.
Cool, huh?
The "painting" is a collage, painted on with acrylics. You can see a larger version of it if you click on it.
Never mind about the text in German, which was taken from a Bach piece, I think it was the St. Matthew's Passion.